Hiking in Ötztal
Lush meadows and breath-taking peaks
The diversity of the Ötztal valley is unique. It offers a wide range of options for families, leisure walkers, sports fans and extreme sports enthusiasts. The Posthotel Kassl is the ideal starting point for a wide range of pleasures and activities.
Enjoy every aspect of this summer resort here with us at the Posthotel Kassl. The close proximity to the Piburger See lake is perfect for a refreshing cool-down after a beautiful walk through the nature park.
Across lush green meadows to the crystal-clear mountain lake, take a break, set your soul free and then stop off for a refreshment break at one of the most traditional lodges in the region. After that: return home, relax, feel good and feel at home at the Posthotel Kassl.
If you have any questions about walking, we are always on hand to help at reception!
Equipment such as walking sticks, rucksacks or heart rate monitors can be hired for free from the hotel.
Why you should spend your hiking holiday at Posthotel Kassl:
Premium location
Our hotel is located at the beginning of the Ötztal Valley, one of the most beautiful hiking regions in Tyrol. You can hike directly from our hotel.
Experience & know-how
Our passionate and experienced hiking experts at Posthotel Kassl will answer all your questions and help you plan your route.
Information & maps
We have hiking maps, hiking books and plenty of information for hiking freaks.
Photo-CD service
Upon request our guests receive a photo CD with pictures of all their guided hikes as a holiday memento.
Guided hikes
Five days a week we offer free, guided hikes with our hiking guide, including family hikes as well as hikes to selected peaks.
Free gear
Complimentary equipment such as hiking poles, backpacks or heart monitors is provided on availability basis.
Hiking bus
The Ötztal Valley has an excellent bus service all the way from Haiming to Timmelsjoch. With the Ötztal Card you will enjoy free access to all the main public transportation routes in the Ötztal Valley.
Spa
Rest your weary legs and recuperate from your hike in our indoor hydrotherapy pool or in one of our saunas, steam rooms or the infrared sauna. You might even want to treat yourself to a massage or a calming bath with Alpine herbs.
Healthy cuisine
We will pamper you with local culinary delights, wholesome food and vegetarian specialities.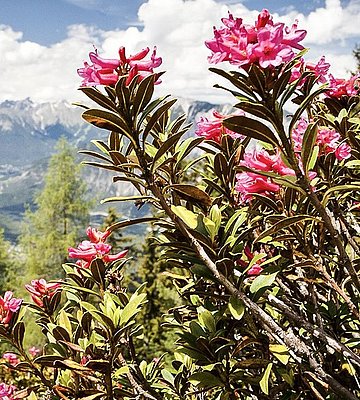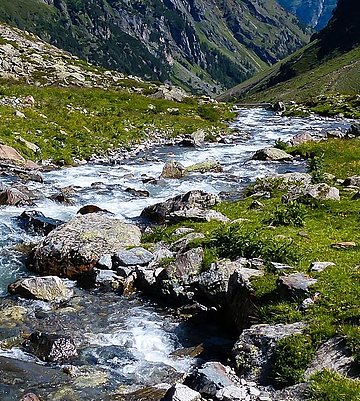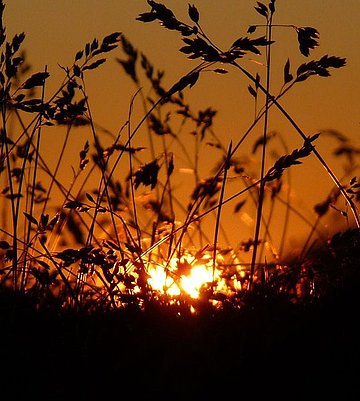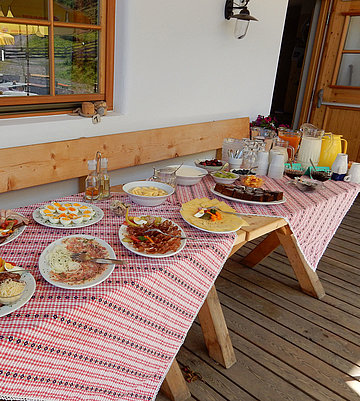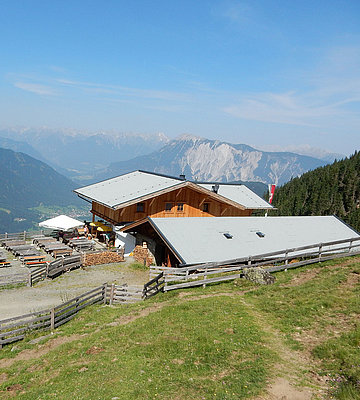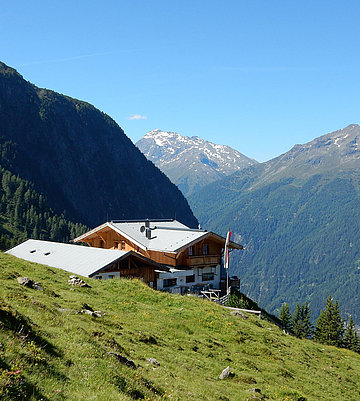 "Alm" mountain inn breakfast in Ötztal
A great experience is the alpine breakfast once a week at a hut in Hochoetz. (Tuesday)
Walking. It was a means of travel for our forefathers but for us is a sport and way of balancing out everyday life. A way of slowing down. Experience all aspects of nature, breathe deep and feel free in the Ötztal valley! The Posthotel Kassl is the perfect starting point!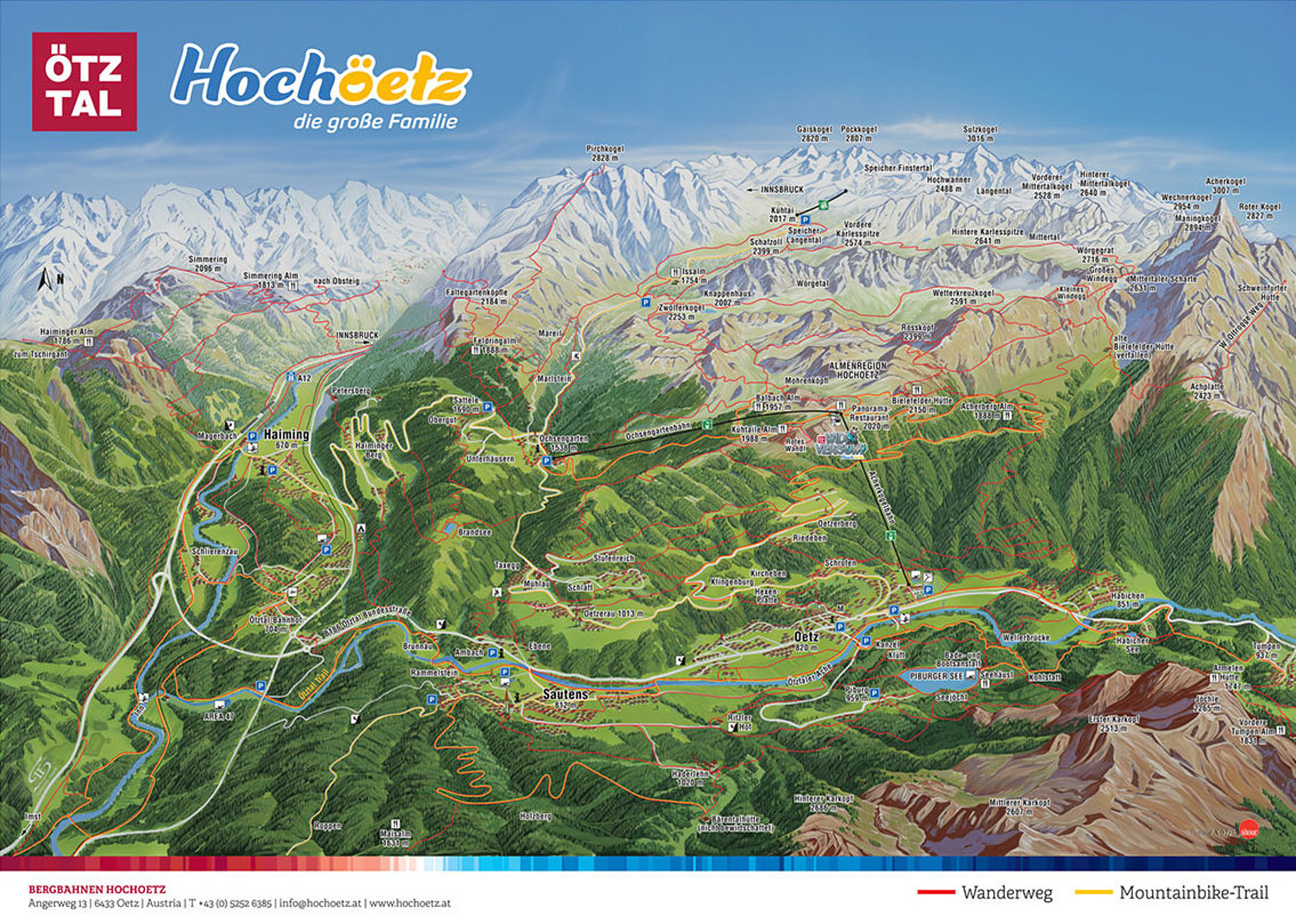 Oetz panoramic hiking map
Download this panoramic hiking map of the Oetz region.
Information & advise for your hikes
Basic safety rules for hiking in the Alps
Hiking rules in Tyrol
Rule # I:
Get directions before you start your hike. Find out how long and difficult the trail is.
Rule # II:
Pay attention to the weather and heed weather warnings.
Rule # III:
Bring appropriate gear and equipment. Wear sturdy boots with good grip along with warm and weatherproof clothes. The weather can change surprisingly quickly in the mountains.
Rule # IV:
Never leave the marked trails. Walking on steep grass slopes, especially on wet ones, or on steep snow fields or glaciers is very tricky and can be dangerous.
Rule # V:
Bring plenty to eat and drink, and don't forget your first aid kit.
Rule # VI:
Never overestimate your ability, and don't underestimate the mountain. Adapt your pace to your own and your companions' physical condition. Walking to quickly will lead to overexertion. Keep in mind that you will still have to hike all the way back home.
Rule # VII:
Help us preserve the native beauty of our mountains and take your waste home with you.#
Rule # VIII:
Tell your host where you will be hiking and try to stick to your time schedule and route.
By adhering to these rules, you can ensure that you will return safely from your hiking adventures in the Oetz and Ötztal region.
Trails system in Tyrol
A consistent trail marking system has been introduced in the Tyrolean Mountains to provide orientation to hikers.
General information
Hikers with limited experience in alpine terrain are encouraged to book a mountain guide for high alpine hikes and glacier crossings. Glaciers aredangerous because of crevasses and should only be crossed with a rope and in a group. Before you start off on your hiking or mountaineering adventure, you should let your host know where you are going and when you will be returning. Hike at a slow pace, take frequent breaks and drink regularly to stay hydrated.
Hiking trails
Hiking trails in the valley or through woods do not require any alpine experience or specific equipment. Mountain trails, which are generally above the forest line, require some basic alpine experience.
Mountain trails
Mountain trails are graded red or black in line with their level of difficulty.
Red mountain trails
Red mountain trails are of medium difficulty. These marked trails are narrow, often steep and sometimes exposed. In bad weather conditions, they do require some experience. Some red trails have short climbing parts with fixed steel ropes to hold on to. Red mountain trails are designated for sure-footed mountain hikers with adequate stamina and equipment.
Black mountain trails
Black mountain trails are difficult. These marked trails are narrow, entirely or sometimes very steep and often exposed. They can be dangerous in bad weather conditions. Black trails can have long stretches of climbing parts with fixed steel ropes to hold on to. They are designated only for absolutely sure-footed, extremely strong and experienced mountain hikers that are not frightened of heights. They require adequate equipment. "Via ferratas", fixed-cable climbing routes, are considered black mountain trails as well.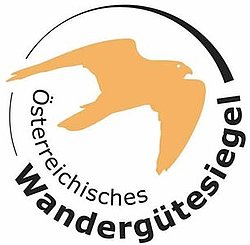 Posthotel Kassl in Oetz
Certified hiking hotel in Ötztal
owever easy or difficult you would like your hike to be; with or without a qualified guide – you will be in good hands at Posthotel Kassl. We are a certified hiking hotel in Ötztal and have been awarded the Austrian Hiking Seal. Our certified guide knows trails and routes for every level of difficulty. We will guide you to jade green lakes and colourful wildflower pastures. We will introduce you to the Alpine flora and fauna and take you to the most authentic mountain inns.