One of the most beautiful hotel bars in Tyrol
Our 120-year- old hotel bar
It all started in 1880, when the bar was still a dining hall with a breakfast terrace and two adjacent reading and music rooms – today's stone pine "Stuben" rooms. When the main street was moved, the hotel and restaurant had to be repositioned accordingly. The rooms lost their original purpose and were utilised as an event hall for weddings and dances. We have been able to maintain the original structure, but we wanted to provide more importance to these historical rooms. So we decided to convert them into a unique hotel bar. Judging by the bar's popularity with our guests, we have been successful.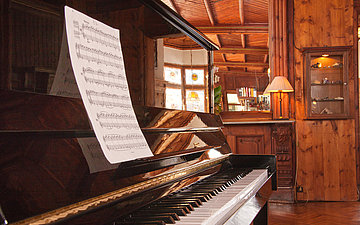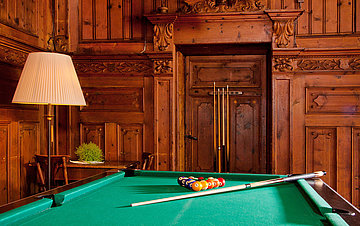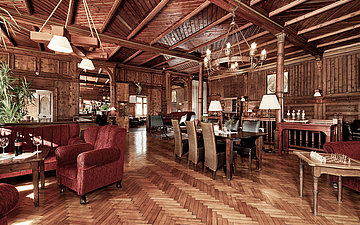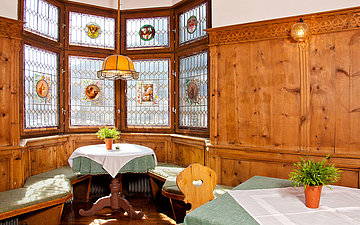 A piece of Art Nouveau in Ötztal
Today, the former dining hall from the 19 th century is a charming meeting spot for our guests. Our hotel bar is a place to play pool or chess, have intimate conversations on comfy armchairs and sofas or socialise at the horseshoe-shaped bar at the centre of the room. Original pieces from the Art Nouveau period add to the distinct character of our hotel bar: the horse carriage that brought King Ludwig III to Niederthai, two full-length mirrors reaching up to the ceiling, the beautiful old stone pine wainscoting and four antique engravings. They portrait the Tyrolean freedom fighter Andreas Hofer, the famous minstrel Oswald von Wolkenstein, the Duke of Upper Bavaria and Count of Tyrol Meinhard II and the historic cartographer Peter Anich with the celestial globe he developed.